Creative Wanderluster
I'm very excited to feature visual storyteller, and creative wanderluster, Michelle Willems. She is easily one of the dopest art directors and designers I've ever come across, and I'm happy for the opportunity to share her home and inspiration with you.
Michelle's creative flair has impacted the entertainment industry across various mediums since the early '90s. Not only is she still killing it professionally, she's also an amazing mom and a treasured friend to many.
On a sunny spring afternoon, I sat down with Michelle in her apartment snuggled in the heart of Ditmas Park, Brooklyn, and chatted about everything from music, to career paths, to kids, and just...life, while sipping rosé. It was wonderful...
See what we got into below:
How does your space inspire you?
I have an equal love for photography, typography, and color, so interesting items or combinations of any of these in a piece of art will grab my eye. Sometimes I place things around the house where someone's eye might land if they were sitting over here or standing over there. I love very graphic art, contrasty, fluid work, shiny, sparkly things, raw photography, energetic designs, and things with dynamic scale or stylized designs from different eras. I love patterns and textures and putting unexpected colors and/or items together from different cultures and time periods. So I slowly fill my space that way, around the functional stuff.
Pairing or displaying certain objects and colors and things around the house might inspire me to try different things when I am designing something, i.e., the combo of colors of things on my dresser might find it's way into a new logo/branding project that I'm working on. Or that picture on the wall might be an inspiration for the next shoot coming up for some key art for a new show.
Seeing the recent showing of Georgia O'Keefe at the Brooklyn Museum really resonated with me as an artist who fills my home with the style in which she works and even dresses. I feel many of us creatives unconsciously do this, and I think it's so beautiful to see the living, breathing embodiment of one's work and spirit!
2 things you can't live without?
ALL of my Prince art, and any art that has been gifted to me from artist friends! And my Yayoi Kusama 1952 poster facing my bed. I cherish every single piece.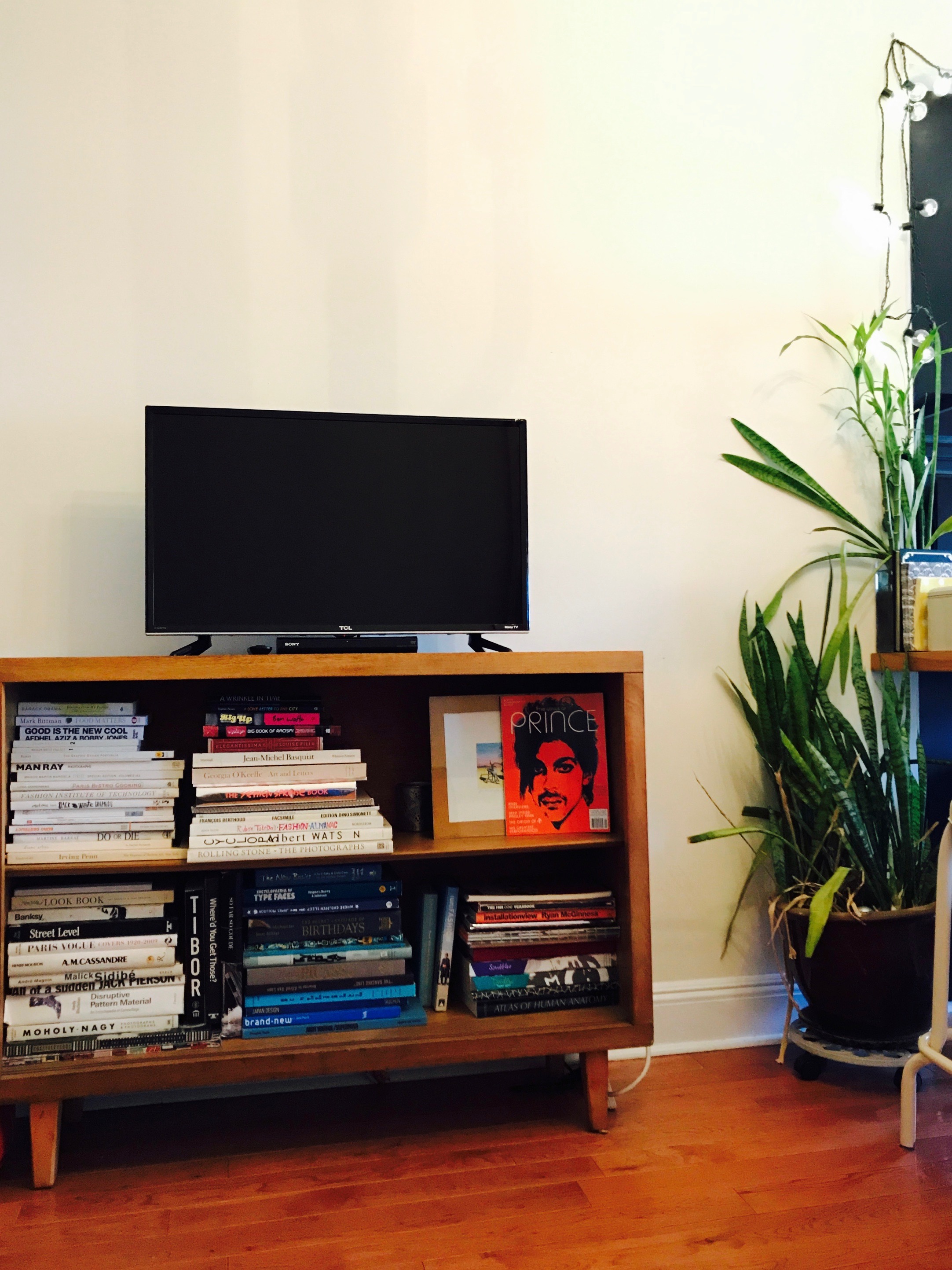 I can't live without color. I just painted my bedroom lipstick cherry red and a peony light dirty blush pink. It makes me very happy to wake up to. So basically, I could live in an empty house if it has colors and is filled with art - but I also need music. That's way more than 2 things!
Adjective to describe your space...
Cheerfully funky!
More...
Background
I started out studying fashion illustration at Fashion Institute of Technology (FIT), because that's where Antonio Lopez went, and I wanted to be him. While there, one of my toughest teachers, Ana Ishikawa, inspired me to take graphic design at the School of Visual Arts (SVA). At SVA, I was lucky enough to study and intern with Paula Scher. She is still my hero and one of the most bad-ass ladies in graphic design. At her studio, I met more great people who later helped me get a job at MTV in their in-house creative department, designing everything from event materials (VMA awards), to merchandise and some advertising. It was a dream job, and my second job after working with Paula's amazing friend, Louise Fili.
I went fully into the music industry at Sony Music, Tommy Boy (and also freelanced with RCA, Bad Boy, and J Records) before switching back to TV at Comedy Central. I later went to Honey magazine and also New York University (NYU) as an art director. I have also taught typography at SVA and Pratt Institute.
I also have a passion for inventing new waffle recipes, being a musical 'selectress' (aka DJ), and a licensed massage therapist who does doula work with pregnant friends. A friend once pointed out that all of these things are helping people in different forms, and I like that idea the most.
What's next?
To hopefully find a creative outlet that isn't as corporate. To work with people who are passionate and creative...to get involved with more meaningful experiences, either educational, or helping others, like the shirts I created with Michaela Angela Davis. I'm going to keep doing/making/learning/searching. I have creative wanderlust!
What drives you?
1. My daughter Nova, she is the Frank's hot sauce to my mac n' cheese!! Hustle mama dot com.
2. Will I get to make something or be part of making something great? Can I connect with a friend? Can I find something inspiring, art, architecture, photography (anywhere, not just museums or galleries)?
3. And of course Mr. FluffyButters, my feline alarm clock (6.30 am)
What's your favorite thing?
The piece that has moved with me the most and I've had the longest amount of time is my bed. It's a handmade platform bed made of white oak with 4 very large, and deep, drawers that are great for holding other bed linens, those big chunky sweaters, and anything else that doesn't fit in the dresser. It also comes apart and goes together easily as its about 8 pieces that fit together like a puzzle. It was made by a friend who is a woodworker in Red Hook, in exchange for some design work about 10 years ago...clean, modern, timeless design. I love it!
Check out Michelle's work